Tanning is the body's natural shield against UV rays Of sun which can damage the skin tissue in the form of sunburn.
Excessive exposure to UV rays of the sun causes Skin cells to produce a pigment called Melanin which causes a tan well it's not about fair or dark skin it's about getting your original skin tone back. It's about removing the dead skin layer that gets equimulated skin due to excessive sun exposure. It's about getting healthy and glowing skin.
So let me share one tried and tested homemade mask which naturally De tan your skin in just one wash.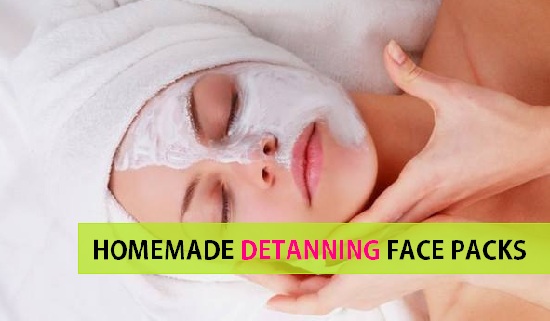 1. Take one tablespoon gram flour
Gram flour or Besan has been used for detaining and brightening one's skin tone for centuries. It's super cleansing properties leave your face looking it best Ever!
2. Mix one tablespoon of Curd on it to remove Suntan
Enriched with Lactic acid, the curd is a natural bleaching agent to fight Sun tan quickly.
3. Next ingredients 1/4 teaspoon of turmeric known for its anti-aging
properties, Turmeric repairs the damaged skin and lightens the skin tone.
Click here to buy Turmeric Powder only Rs 175.00
4. Add 1 teaspoon honey to it to remove Sun tan
Honey has the ability to open up the pores and unclog them off dead skin cells. Full of antioxidants,& natural moisturizer & soother, honey give a glow to the skin. You can use any honey to this.
Dabur 100% Pure Honey only at Rs 199.00
5. add 1/2 teaspoon of sandalwood powder to it
to remove Sun tan
The natural oils in Sandalwood(Chandan), effectively helps get rid of Suntan.
Click here to buy Sandal Powder only Rs 224.00
6. Add one tablespoon of rose water to remove Sun tan
Rose water due to its astringent properties helps clean pores and tones the skin.
once you put all the ingredients mix them thoroughly to make a paste-like consistency.
Patanjali Gulab Jal only Rs 110.00
Now your De-tan face mask is ready.
Apply the mixture over the tanned areas. While applying gentle massage in a circular motion. after completing the massage let the mask do its action for about 20-30 minutes. Finally, wash it off using running cool tap water.
Best Tan removal and Skin Brightening Face Wash you can use.
Best cream you can use after washing your face
In just one wash you will get the changes of your skin.No de tan fairness skin cream will work like its work. Do not waste your money on buying Fairness and De tan Creams. Now you do not have to afraid of sun enjoy the sun because now you know how to face and recover from Tan.
This pack is completely natural and does not have any side effect. Try this 30 mins before going to bath in the morning to get a better result.
if you have a pimple and can't get rid of you can read How to get rid of a pimple overnight? Never Pop It!
You can also read How to look younger for longer??